If you have first responders on your staff and need any combination of CPR, First Aid or AED training, Physicians Quality Care's certified trainers have you covered. We can customize a training program for your employees and get them certified, whether you have five or 50 employees who need it. We will even bring the classes to you when you need them.
Four reasons to train your employees in first aid
It's the law: Based on your industry, first-aid training may be required by law. Even businesses that are not required to administer training through OSHA can benefit from having employees who can provide first aid.
Employee safety: First-aid training for employees ensures that if anyone is injured on the job, immediate action can be taken and treatment can be administered in those crucial few minutes before medical help arrives – which can have a huge impact on the outcome.
Customer service and safety: If an injury happens at a place of business, customers expect employees to be trained to help them. A business that takes the time and money to properly train its employees in first aid and CPR cares about its customers.
Insurance premiums: Many insurance companies offer premium discounts for businesses that have trained staff in CPR and first aid. Liability insurance can be one of the largest expenses a business faces. The ability to lower this cost while providing a community service is a huge advantage.
PQC OCCMed provides required physician oversight of AEDs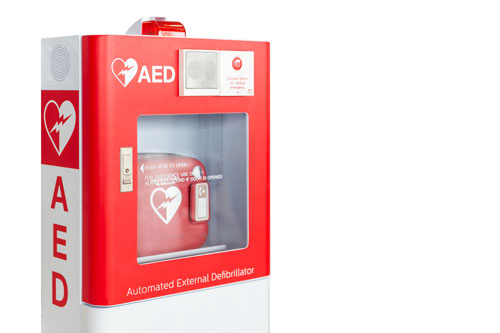 AEDs – Automated External Defibrillators – are more common in today's workplace as companies strive to offer a safer work environment.
They are not required in the workplace, but if your company has them, Tennessee requires that you have physician oversight on their use.
Physicians Quality Care OCCMed provides physician oversight, along with first aid, CPR and AED training at your workplace so that more employees know how to help a coworker or customer who is having a heart attack or needing first aid.
Sudden cardiac arrest is a leading cause of death in the United States, the American Heart Association said. And about 10,000 sudden cardiac arrests occur while victims are at work, according to OSHA data. Using a defibrillator on an individual in cardiac arrest increases his or her survival rate by 60 percent, OSHA estimates.
Tennessee law on AEDs has several components …

Whenever an AED is used, the company must report the use to the supervising physician.
Expected defibrillator users must receive American Heart Association CPR and AED or an equivalent course in defibrillator use and cardiopulmonary resuscitation.
Local emergency personnel must have the location of the defibrillator on file.
The defibrillator must be maintained and tested according to the manufacturer's operational guidelines.
Anyone who uses an AED to give emergency care or treatment on a person in cardiac arrest must activate the emergency medical services system as soon as possible.
Questions? Contact Jennifer Carmack at jennifer@physiciansqualitycare.com or 731-984-8400.
Sources: AEDbrands.com, Society of Human Resource Management